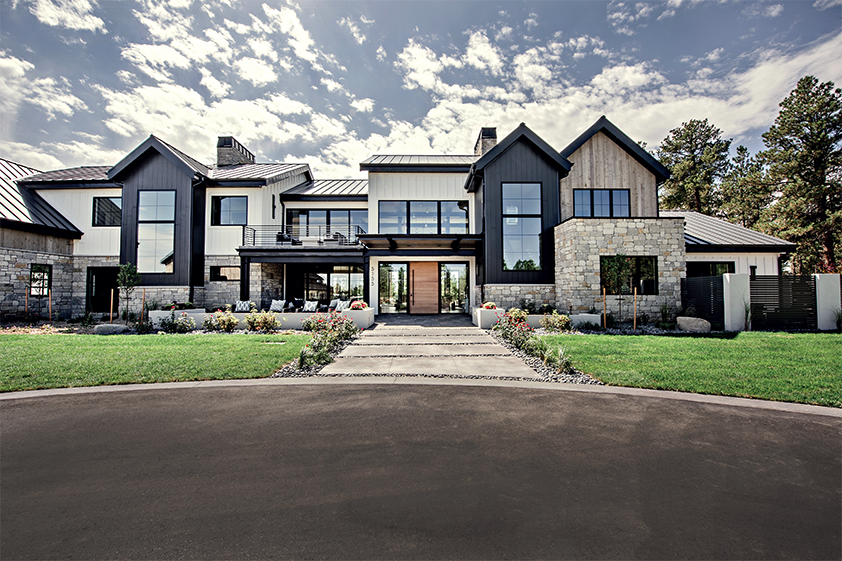 The complete build
Launched in 2014, All About Home Design has taken the home building industry by storm, sweeping local awards, and masterminding some of the most beautiful developments across Colorado Springs
All About Home Design is a company that's been long in the making. With over 35 years of experience, Scott Maynes spent decades building homes and commercial structures across California and Nevada, resisting the plea from his sister, Karen Jones, to join her award-winning interior design business, based in Colorado. Eventually, however, Scott came round to the idea, moving to Colorado Springs to launch the premier home building and design company. The pair embarked on their first business venture together in 2014, designing and building a custom home in Black Forest. It was a landmark project, securing the company a total of six awards at the Housing & Building Association of Colorado Springs (CSHBA) Parade of Homes for that year, including 'Best Overall Home' and the 'People's Choice Award'.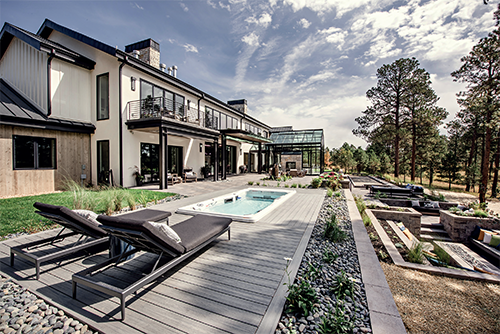 Following up on the success of 2014, All About Home Design has established itself as a recognized custom home builder in Colorado Springs and the surrounding area, delivering a complete one-stop shop service. "With an uncompromising eye for detail, a passion for quality and creativity, we've learned what it takes to turn a client's dream into reality," says Kim Davis, Interior Designer at All About Home Design. "Scott's experience in land development and building across multiple geographical areas, has given him the ability to build just about any home on any lot."
But Colorado Springs is competitive ground when it comes to builders and interior design. The question is: what sets All About Home Design apart? "We provide complete transparency to our clients, using the cost-plus business model," Kim says. "Ultimately, the homeowner drives the total price, and there are no hidden fees. The client sees every estimate and receipt from the vendors, and we have a set percentage fee on what is spent. Every selection is approved by homeowner ahead of placing the order.
"On top of that, we have a reputation for attention to detail," she goes on. "We strive to design and build a one-of-a-kind home for each of our clients. We provide a one-year warranty, as do our trade partners. We know the importance of quality – that's why we always recommend top-rated products for efficiency, safety standards, and recognized sustainable resources. These include high efficiency appliances, low VOC paint, Canadian based Sagiper products, solar, radiant heating, and much more."
Stunning example
One recent project of significance for All About Home Design is its Flying Horse North development. Completed last year, it brought the company yet another nomination at the 2021 Parade of Homes Awards. "This stunning 9000-square-foot home backs onto a golf course, reflecting a mountain modern resort vibe, with a contemporary industrial twist," Kim reveals. "One addition that truly sets it apart, is the 8500-square-foot entertainment barn, which includes an official sized two-lane bowling alley, a future wet bar, a pickleball court, and an upper loft bedroom suite."
But the experience doesn't stop there. "When you walk through the front door of the main home, natural materials ranging from European white oak wide plank flooring, and custom cabinetry, to exposed metal beams, and two-story limestone fireplace, temper the dramatic interior, making it warm and inviting. From the entry, you see through the great room's impressive 23-foot-wide wall of electric sliding-glass doors," Kim continues. "It's a design that gives you that truly inside-outside feeling. Coupled with the sounds of the water feature, it transforms the home into a resort-like oasis.
"The stunning dining room is a fully heated and cooled conservatory, showcasing a two-sided stone fireplace. The ambience in this space at night is mesmerizing, with twinkling bistro lights overhead," she adds. "We've provided a curated style with muted hues that change subtly from room to room. The mix of metals, weathered wood, black framed windows, marble tile, and the amazing glass storefront gives it an edge. We are very proud of our trade partners, including Interiors by Bri, who provided the decor for this stunning home, and feel that everyone came together to create something unique and special."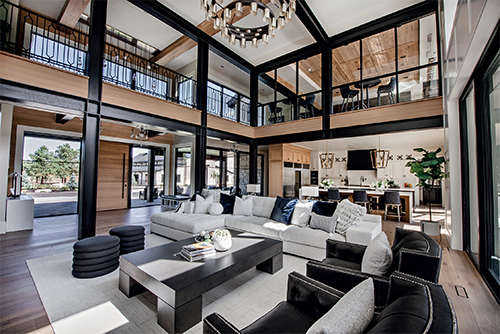 Valued partners
As Kim's description suggests, All About Home Design is committed to bold, memorable builds and designs. "It's our mission to stay ahead of the curve, and to provide innovative products that are truly cutting-edge within the industry," she insists. "To achieve that, we are always on the lookout for new technology. In this, the value of our trade partners cannot be understated. It's through their expertise that we're introduced to the very latest, exciting developments within the industry. If we want to continue to drive forward our success, it's our responsibility to develop long-lasting relationships with them, and to further that collaborative spirit."
Not everything is about the build itself, however. As Kim points out, one unique challenge when it comes to building premiere homes within Colorado Springs is the absence of land to build upon. "We are always on the lookout for lots in different parts of the Springs, but most are bought up quickly," she concedes. "We are currently building in the areas of Broadmoor Spires, Broadmoor Resort, Kissing Camels, Grandwood Ranch, High Forest Ranch, Black Forest, Forest Lakes, South Douglas County and Flying Horse North."
Higher demand
This competition for land once again underlines the value of All About Home Design's industry partnerships. "We've partnered with a few well-established realtors, who keep us in mind when new listings come up," Kim says. "One of the realtors, in fact, is the homeowner of one of our past parade homes. These are experienced professionals who know the caliber of home that we can provide. They're excellent at matching us with clients who are an ideal fit."
Like the rest of the US, Colorado Springs was hit hard by the arrival of the Covid-19 pandemic in early 2020. For All About Home Design, it was yet another challenge at an already difficult time for trading. "In recent years, we've seen a real explosion of people moving to the area," she explains. "As a result of that, costs are being driven up at a time when issues across the supply chain and trucking industry are already inflating the cost of materials.
"As with businesses across the country, longer lead times have made it necessary for us to order products much earlier," Kim reflects. "We're having to stay on top of the ever-changing value of commodities, such as lumber and steel, and we pass that information onto our clients as best we can, keeping them informed of any changes that can impact our project delivery. We haven't experienced much down time within our office due to the virus, but our sub-contractors have been short-staffed at times, which is something we've had to work around.
"Beyond that, there are other factors that we take into consideration, which are specific to Colorado," Kim notes. "The occasional snow and freezing temperatures can be quite a hurdle to overcome. Nevertheless, with our years of experience, it's something that we're now quite adept at handling."
As the effects of the pandemic begin to recede, All About Home Design has a busy year in-store, with several new homes set to break ground. "The number of homes in the pipeline for 2022 exceeds that of any year prior," Kim tells us. "Even though there are more obstacles now, the demand has been higher. We are looking forward to another amazing Parade Home this coming September, and we will continue to push our creative boundaries.
"As builders and designers, our highest priority is to bring our client's forever home to fruition," she concludes. "When one home built by us just isn't enough, we also have clients for whom we're building subsequent homes. It's a huge compliment to see homeowners return to us for projects of such importance, and we are grateful."
All About Home Design
www.allabouthomedesign.com
Services:Luxury custom home builders