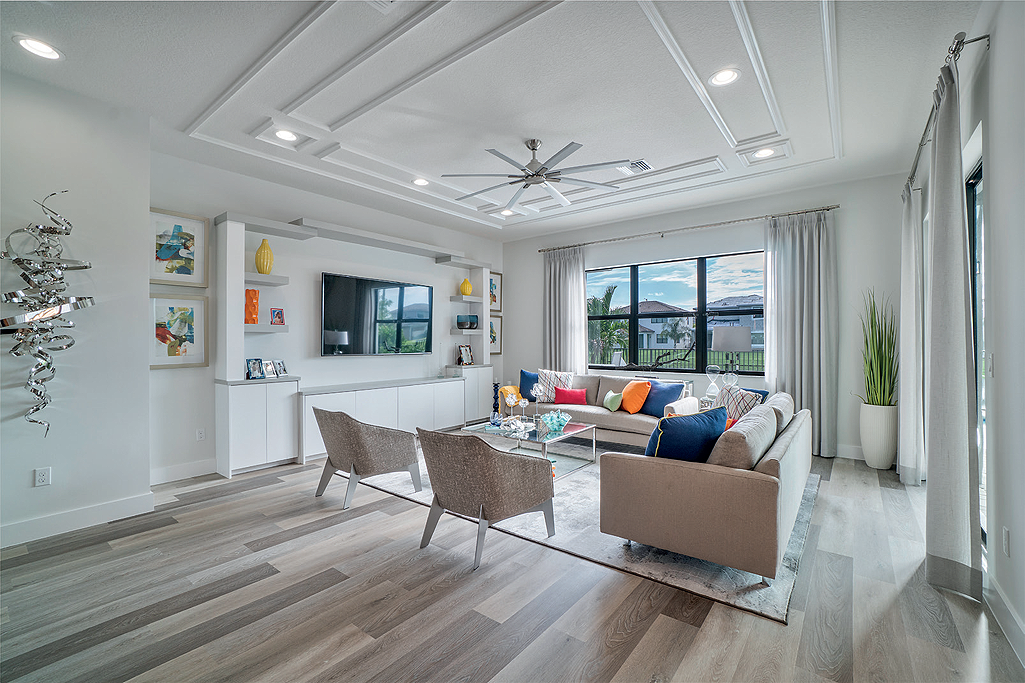 Modern living
Founded by Ramsey Akel, and led by his son (and company President) Alexander Akel, Akel Homes is a boutique semi-custom homebuilder based in South Florida. Over the past 30 years, the Akel family has been responsible for building and selling thousands of residences including town homes, single-family homes, and active adult communities across the region. Guided by its principals and its commitment to providing a personalized new home experience, the company has developed and built over 3000 homes in some of South Florida's most renowned master planned communities, such as Villaggio, Villaggio Reserve, Bellaggio, Isola Bella, and Isola Bella Estates.
"Our secret is that Akel Homes provides a personalized, new home buying experience from start to finish," Alexander explains. 'We call it the 'Akel Advantage'. Our homes are designed with forward-thinking, architectural design and built with high quality, energy-efficient, and healthy building materials. Through our Design Center, homebuyers can select from hundreds of finishes to personalize every detail of their home – room by room.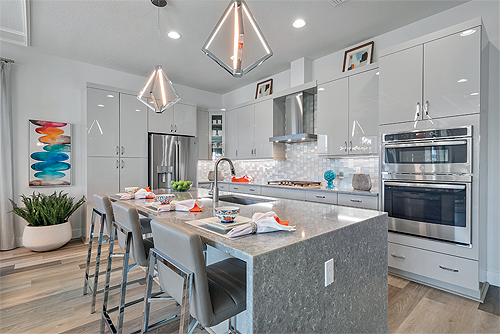 "We build where people want to live primarily in desirable locations close to fine dining, shopping, nightlife, recreation, education and transportation. Communities are master planned to bring out the best of Florida living – glistening lakes, stunning open spaces, and world class, resort-style amenities. The inspiration for each and every home and community is drawn from the people who bring them to life. That is the hallmark of the Akel Advantage!"
Akel Homes' current flagship community is Villamar at Toscana Isles. Located in the center of the much sought-after area of Palm Beach County, Villamar sits minutes away from golden sandy beaches and boating inlets, as well as a short drive from West Palm Beach, City Place, Wellington and Downtown Delray Beach. It means that a mix of urban and boutique shopping, highly-rated educational institutions, arts and cultural destinations, and outdoor activities are at arm's reach.
Clear communication
An exciting single-family community, with 13 unique one and two-story floorplans, ranging from 1800 to 3000-square feet, Villamar offers a home for all lifestyles. Amenities include a 3600-square foot clubhouse with a resort-style pool, multipurpose sports court, tennis court, children's playground, a spacious event room with a catering kitchen, and a state-of-the-art fitness center.
"Villamar has been a huge success for us, with over 60 percent of its homes sold to date," Alexander enthuses. "The number of floorplans, exterior elevations and personalization options that Villamar offers are unprecedented, and as one of the only private builders in South Florida, Akel Homes' semi-custom, boutique home buying approach clearly resonates with home shoppers attracted to the area."
Alexander – like his father and everyone else associated with the company – recognizes that homebuilding is very much a people business. It is that understanding, which has helped in many ways to contribute to its continued success over the years. "Our extremely dedicated team at Akel Homes has decades of experience in working with customers, trade vendors and service providers," Alexander continues. "Each home is built to the specified finishes of every individual homebuyer. Managing that process with over 40 subcontractors can be tricky. The key to our success is creating clear and effective communication channels that keep the homebuyer and trade vendors in the loop every step of the way. Our team at Akel Homes is laser focused on delivering an unmatched home buying experience."
Akel Homes supports its company's employees through a wealth of technology and innovative processes that help to run every aspect of Akel Homes, from sales and marketing, and purchasing and procurement, through to project scheduling and customer service. "We use cutting edge Customer Relationship Management (CRM) software to manage and nurture leads," Alexander adds. "As more people continue to shop online for their new home, Akel Homes continues to invest in virtual tours, interactive floorplans and mobile friendly websites to create a simple, home search experience. We communicate with our team of over 40 independent subcontractors through our purchasing system and builder portal. Finally, at Akel Homes, we built our own customer portal to manage the entire home buying experience, from contract to well beyond closing that manages service requests, important contacts, and other information to assist homebuyers as they move into their new home."
Every Akel Homes customer attends a Design Center appointment, regardless of whether they are interested in purchasing options. "Our included features come with numerous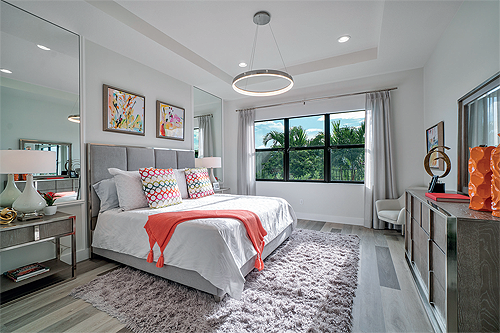 personalization options to choose from," Alexander points out. "Our on-site design studio displays hundreds of selections such as cabinets, countertops, flooring, as well as plumbing and electrical options, just to list a few. In addition, Akel Homes utilizes interactive floorplan technology and room visualizers to assist the customer in envisioning their dream home. In January 2021, we look forward to adding to our levels of customer engagement by launching an online Design Center, which will allow even more potential customers to see what Akel Homes has to offer!"
Development pipeline
For the company – as has been the case for everyone – 2020 came with many unprecedented challenges as a result of the emergence of Covid-19. Alexander goes on to detail the steps Akel Homes took to navigate this. "First, at the onset of Covid-19, we immediately took all necessary actions and precautions to create a safe in-person home buying experience for our customers. We did so by introducing more frequent sales office and model cleanings, mandatory mask requirements, temperature checks, social distancing and implementation of virtual tours and digital home buying tools. Then, we implemented similar procedures on the construction side of the business. In addition to all of this, we also worked in close coordination with our manufacturers to mitigate supply chains disruptions to keep our homes on or ahead of schedule."
With 2021 now here, Akel Homes finds itself cautiously optimistic as to what the coming year has in store. "Primarily, it is our hope that as a world, we can resume our normal routines safely again," Alexander exclaims. "On the homebuilding side, it is our hope that we see improvements on the supply chain side of the business. There is no question, however, that many of the trends such as work from home spaces, virtual marketing tools and healthy building will become even more prevalent in 2021."
Alexander is also keen to emphasize the fact that Akel Homes has several community developments in the pipeline. Most specifically, the company is focusing on Wilson Grove, a 2400-acre Development of Regional Impact in Port St Lucie, Florida that is approved for over 7700 homes, which will make it one of the largest in the entire state of Florida.
Akel Homes
www.akelhomes.com
Services: Boutique semi-custom home builder