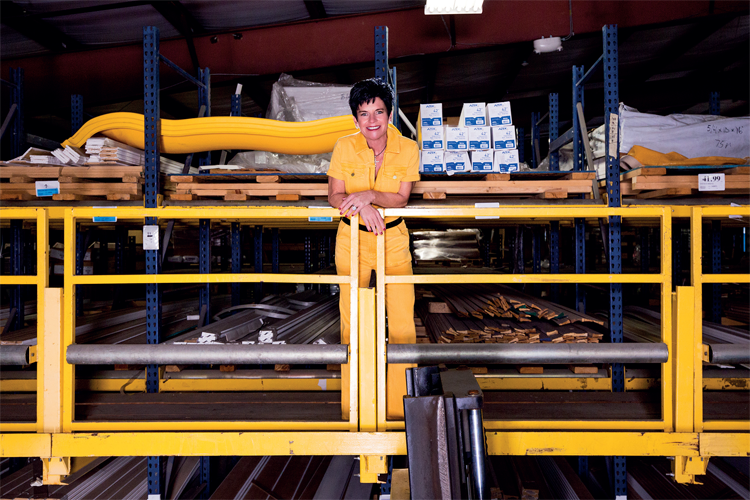 A legend in lumber
Celebrating 65 years in business in 2021, 84 Lumber remains the first choice for contractors and builders across the entire US, thanks to its dedicated team and inspirational President and Owner, Maggie Hardy
As the nation's leading privately held supplier of building materials, manufactured components and industry-leading services for single- and multi-family residences and commercial buildings, 84 Lumber already holds a unique position in the market. Not only does its lack of shareholders give it a lot of operational flexibility and freedom, but its owner, Maggie Hardy, is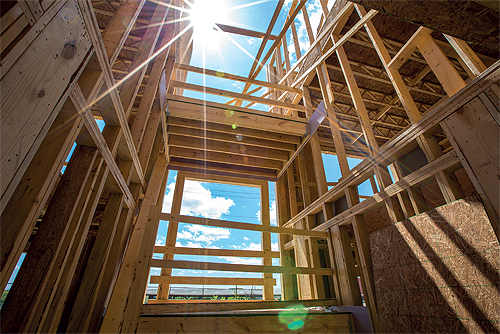 one hundred percent invested in the success of the company and her people, in way that public-listed businesses find hard to emulate.
Frank Cicero, Chief Operating Officer at the company (and who has worked for 84 Lumber for 38 years), believes that this is a very important factor that sets the business apart. "Maggie doesn't really view 84 Lumber Company as a company, although that sounds strange!" he said. "She really thinks of it as a living, breathing entity, or almost one of her children. This is really, truly a family business, built around people and full of staff who have been here for years and we have all grown together to do this job."
Given Frank's history with the business, he is perfectly positioned to give the magazine's readers a brief insight into its evolution, which started back in 1956, with its founder, and Maggie's father, Joe Hardy. "Joe started a company to help contractors build houses in Pittsburgh, Pennsylvania, where there was a miniature housing boom at the time," said Frank.
For 20 years, 84 Lumber added stores across the States and then in 1976, it recognized a new competitor in the form of 'home centers.' These were selling raw materials for building houses as well as stocking bathrooms and kitchens – bolting on the other peripheral items that are needed to create a home. "We saw this as a great model as the stores would draw in retail traffic. But then in 1989, the big box stores like Home Depot start opening up, so in turn, the company spent the next three years figuring out how to best fit into this new world."
In 1992, Maggie became Company President, and while only in her late 20s at that time, she had essentially spent much of her life beside her father at 84 Lumber, learning about the business and how it works, and her arrival heralded a step change in approach. "It was a major shift in our company and is why we are successful today," asserted Frank. "When Maggie became 84's President in 1992, she visited stores, listened to our company associates and found out what each individual market needed to be successful. It was really her patience, listening to people and then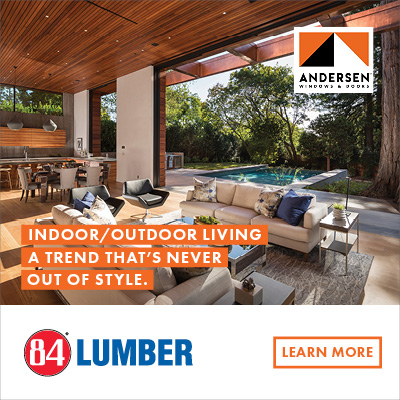 acting on what they said – which is another of Maggie's strengths – that made us what we are today."
Maggie's philosophy recognized the different needs and trends of each location, and over the four years from 1992 to 1996 she reset the culture. "Deciding to stop waiting for people to come into stores, she created an outside sales program, with associates that go out and meet builders and find out what their needs are, and drive sales into the stores in that way," added Frank.
Growth trajectory
If 1992-1996 reset the culture, then 1996-2001 set the foundations. Having established a great model and facilities, 2001-2006 saw 84 Lumber enter bigger markets, and just as it was seeing success in new locations such as Dallas, Los Angeles and Phoenix, the market was hit by the 2008 housing bust. It heralded a tough few years for 84 Lumber, but as a company that was privately held, it weathered the storm. "Maggie personally invested her own money to keep the company going through those hard times," said Frank. With Maggie's support, 84 Lumber persisted; in 2011 it entered a period of recovery, with new stores arriving four years later.
"We had this little growth spurt in 2016/2017 and from 2017 to where we are today, we have been on this wonderful trajectory of growth that could see us end 2021 at over $7 billion of revenue," exclaimed Frank.
Maggie's philosophy of learning a lot about the areas where stores are located has been a crucial factor in the evolution of 84 Lumber, and a differentiator between it and the competition, because as Frank notes "it's so different from market to market. As you can imagine – a builder in Boston is going to have different needs to one in Northern California."
The strategy has been very successful and means that 84 Lumber can supply its customers at every stage of a house's construction, wherever they are located. It starts with the framing. "We do windows, exterior doors, siding and roofing, and then we go inside with interior doors and trim. The range is broad and encompasses everything that you see in a house," explained Frank.
Frank referenced a few of the items supplied by 84 Lumber, but his list was just a small selection – the business offers a huge variety of construction building materials and supplies, from decks and drywall to stairs and moldings. Its buying power and depth of inventory means that contractors' projects will stay on budget and on time, and its understanding of local markets means that the advice of staff and range of professional services and specialty products available meet the needs of its customer base.
Capacity expansion
Another significant additional aspect that sets 84 Lumber's product selection apart is its own in-house manufacturing capability. "Once Maggie's new philosophy and culture were set up, she knew we had to get into manufacturing," said Frank. For over three decades, the organization has established itself as a leading manufacturer of metal plate connected roof and floor trusses and wall panels for some of the country's largest single-family and commercial builders.
To get some further details about this important segment of 84 Lumber's business, Vice-President of Installed Sales & Manufacturing Ken Kucera joined our conversation. He explained that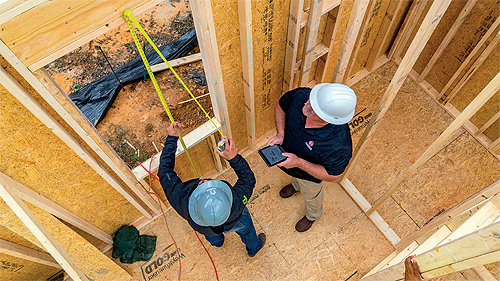 the business now has 12 manufacturing plants in total, based predominantly east of Mississippi and manufacturing for its own stores and customers. With an investment and modernization program underway, 84 Lumber is greatly expanding its capacity both in facilities and the equipment inside, upgrading to automated truss lines, pluck systems, wizards and various types of modern equipment. "We are looking at autofeed systems, and with some of the new plants we have staked out, we see that type of technology becoming part of it," he said.
"The efficiencies also come from our associates and the training programs we have for them, as well as the set up of the equipment. We have focused on our industrial engineer talent process, with process managers going into our facilities to work with the operators to look at how they are setting up and then modernize that aspect of it as well."
The products built inside 84 Lumber's facilities – trusses, wall panels and floor panels – may not be new inventions in themselves, but they do include innovation in the way that 84 Lumber delivers them to the construction site. "What we want to do is receive a question from our customer, work with them to develop a measurement of that delivery option, go and do it, assess it, come back and review it, score it, price it and if it's deemed worthy and it goes to the adoption stage, ultimately scale it," said Ken. "That could be for floor panels, it could be longer panelized wall systems, or it could be usage of cranes instead of rolls on a job site. It involves manufacturing of products, as well as the installation side and how we can join them together. We work really hard with our stores to make sure that the store, the plant and the labor are all pointed at the customer."
In fact, the synergy between stores and manufacturing is a priority, and Ken confirmed that the business is committed to increasing its manufacturing capability to support the growth of the stores. "That means looking at markets with stores we are in today and adding or increasing manufacturing in those markets. We are also taking positions in new markets both in terms of stores and manufacturing sites, so it is really exciting to be on the edge of that."
This process of location expansion is already underway, with March 2021 seeing the opening of a new, dedicated truss plant in Richmond, Virginia. The new component plant, which primarily manufactures wall panels, roof and floor trusses, is fully automated, outfitted with the latest design software, computerized saws, a trackless gantry system and laser projection equipment.
Just five months later, 84 Lumber celebrated another opening, this time in Statesville, North Carolina. The utilization of the technological solutions in each of these new truss plants means that the manufacturing teams can design and manufacture the right solutions for customers in much less time and deliver them to the jobsite ready to install.
While the component manufacturing side is a crucial contributor to the success that 84 Lumber has achieved over its history, the facilities and machines are nothing without the right operators, and this applies to the stores, too. From the top floor to the shop floor, the business strives to hire great people and keep the same culture – for this reason it has never undertaken an acquisition.
"Our people set us apart," stated Frank. "We build everything from the ground up, and I think that's how we keep our culture as one. We bring transparency to everything – to our associates, our customers and our vendors, and we all work together. We have 350-400 people that work in our team headquarters, and these are the people that support our 250 locations throughout the US.
"Surprisingly enough, everybody is here between 6:30-7:00 a.m. and everybody leaves between 5:30-6:00 p.m. because the team headquarters works the same schedule as the stores; there is no differentiation here – we are all one team."
"What our associates can get done both in the manufacturing space and in the stores that we supply, I think it's been a differentiator in this current run that we are on," agreed Ken, from a manufacturing perspective. "In some markets, we are adding tools that they haven't had before, and they quickly take advantage of it."
The growth the company is undergoing also means that it is looking for new associates to add to the team – it is looking to hire as many as 3,000 roles across the country throughout the rest of 2021. In a short video on YouTube that gives a small insight into 84 Lumber's truss plant in New Britain, Pennsylvania, Sean O'Connell, the plant general manager, commented that working for the business has given him the opportunity to 'play a part in building the future.'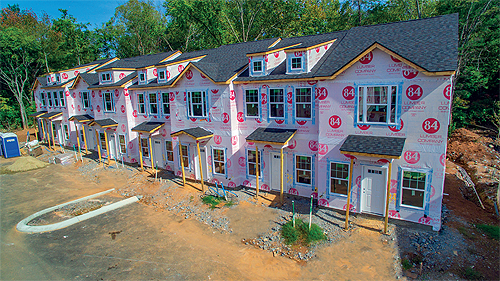 People-first approach
For any young people who want to experience this for themselves, 84 Lumber has a component designer apprenticeship program, where successful applicants enter at the ground level and learn all about design and engineering. The opportunities for advancement through the company are impressive, and recruitment and finding the right team members is a continuous process for 84 Lumber. "We are proud of our associates and what we do here, and I think it's reflected in our growth and what we will be doing in the future," said Frank.
In fact, everyone along the value chain is important to 84 Lumber – putting people first is a priority. "I think what drives the company more than anything is watching the success of its people. We all get tremendous amounts of enjoyment from that, especially Maggie," said Frank. "We are going to take care of our associates and customers first, and indeed, building long-term relationships with customers is also something else that sets us apart," he added.
This echoed Ken's previous comments about forming close collaborations with the customer, and he agreed that this approach would remain very important. "It can happen in many different ways, so it could be simply having the product they need, but it's also the research and development, value engineering, bringing them cost and time saving ideas, decreasing cycle times – that is the trade off to get to that relationship," he reiterated.
This collaborative approach requires a lot of flexibility, and Ken agreed that this way of operating has contributed to 84 Lumber's success. "I think its going to really tell the tale in the next 12-18 months where capacity and constraints of manufacturing are going to remain," he added. "We need to listen to our customers and form deeper relationships with them and ultimately, if there is an investment in capital to get there, we are willing to do that, but we want to make sure we have a strategic partner along for the ride with us."
Technology evolution
This customer-first approach was also made evident during the Covid-19 pandemic months of 2020, when, as a designated essential business, 84 Lumber and its stores remained open. "Those front line associates that took care of our customers were the true heroes of this company," proclaimed Frank. "We didn't miss a beat, and actually after the first three to four weeks starting on March 16th, our business boomed off the planet, and we had front line associates who worked through it with us.
"The pandemic did cause people to really love their homes," he continued. "I think the way people look at their homes is a bit different right now, plus we have an economy with very low interest rates for people to buy houses. So, we have a boom in the building industry, but I think some of those suppliers through 2019 into the pandemic weren't ready for the surge.
"However, when you are a 65 years old company with an owner like Maggie, and vendors that have been with you for over six decades, beside you every step of the way, giving you what you need and probably a little bit more – all that has kept us growing and thriving through these challenges."
From Frank's description of Maggie, getting feedback from those working on the front line has been a cornerstone of her success: "Having an owner who constantly asks 'what do you need'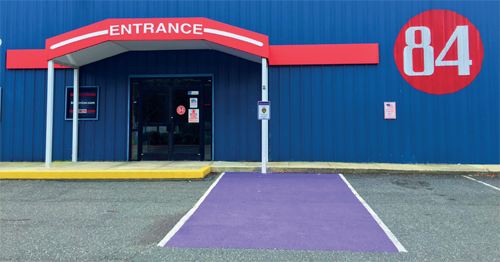 has been essential," he said. Therefore, when Frank described the arrival of Paul Yater, the newly appointed Chief Information Officer in 2017, it wasn't a surprise to learn that part of his process involved discussions with the teams on the shop floor. "We are around three and half years into this IT road map, and our CIO spent several months travelling the country seeing people so that he could take what we had and make it better," said Frank.
Paul was tasked with optimizing the company's network to support 84 Lumber's planned growth and expansion, and his conversations revealed a key theme: It was time for change. "The evolution of technology in the building materials industry is reshaping how we do business," commented Maggie upon his appointment. "Paul's vast experience with global organizations will allow us to redesign our digital and technology offerings to operate at an even higher level."
Through the transformational roadmap Paul is creating, which focuses on both customers and associates, 84 Lumber's systems and technology are being designed to work as hard as every member of the team and help take the organization to the next stage.
From speaking with Frank and Ken, it is clear that Maggie's management style (Frank described her as a 'fearless leader and entrepreneur') and her approach to business have been game changers for 84 Lumber. Decisions made from a female perspective can bring a different angle to solving challenges. "I believe that 'group think' can be counterproductive at some point, so if an owner who happens to be a woman can put a little different tilt on that and crack open some new ideas and creativity then all the better," added Ken.
Commited to communities
With the business also being nationally certified through the Women's Business Enterprise National Council, Ken acknowledged that being female-owned and operated does give the business a uniqueness in the industry and gives it a platform from which it can work with customers on certain projects. "We also found that we were able to provide mentorships for women-owned firms that are smaller in nature. This is definitely a relationship we are focused on building, so we are going to be adding associates to that program," he elucidated. "We want to get the word out and make sure we are connected with groups that are focused on women and minority ownership and bringing more people to the table to help face all the shortages and constraints we have on the industry."
Mentioning the way that 84 Lumber works with some community groups and smaller businesses brought Frank to the topic of philanthropy. The business believes that being a good corporate citizen goes beyond donating money and materials. For 84 Lumber, it means having a commitment to helping individuals and organizations most in need, as well as a vision for making a positive impact. Through its Building Hope program, it has worked with numerous charitable organizations, ranging from volunteer fire departments, to chapters of the Red Cross and United Way, to the national efforts of Habitat for Humanity. In 2020 alone, the business donated millions to a variety of charitable causes.
Members of the United States military have always been recipients of 84 Lumber's strong commitment to helping others. To continue the tradition, the building materials supplier hosted its sixth annual Operation Appreciation campaign in May 2021 in honor of Military Appreciation Month. "Operation Appreciation is one of our favorite times of year," said 84 Lumber Vice President of Marketing Amy Smiley. "It means a lot to us to be able to set aside time to honor heroes from all of our communities across the country and to give back to those who have given so much."
Throughout the years of hosting Operation Appreciation, 84 Lumber has donated to various military-related charities, highlighted company associates around the country who have served, launched major partnerships with organizations including the Fisher House Foundation, and one year, the company even gave away a tiny house to a military veteran in need.
May 2021 also witnessed an event that highlights not only 84 Lumber's dedication to developing the technical skills of the next generation, but also its generous approach to philanthropy and Maggie's hands-on involvement. In celebration of the next generation of trade workers, 84 Lumber hosted ten high school seniors for a SkillsUSA National Signing Day event in Pittsburgh, Pennsylvania. In a style similar to National Signing Day events for high-school athletes, the students committed to careers in the skilled trades and signed 'letters of intent' for a job offer, apprenticeship or advanced technical training. Following the signing, Maggie surprised all ten students with scholarships, totaling $50,000, towards the trade school of their choosing.
At a time when the residential housing sector is booming, and businesses continue to expand, this event shone a much-needed public spotlight on students pursuing careers in the skilled trades. "As a 65-year-old building materials company, we know firsthand that young people can thrive and have incredible, lifelong success through the skilled trades," said Maggie. "We are proud to be a sponsor of SkillsUSA, and we are even more proud of the students we've been able to get to know through this event."
Building success
As the company navigates the second half of 2021 and celebrates its 65th anniversary, now is a great time for 84 Lumber to highlight all of its successes. As Frank puts it, "how many 65-year-old companies are there, privately-held by the second generation and turning over $7 billion a year?"
As it heads into its next decade, Frank and Ken envision the business continuing to be a privately-held, family company, consistently growing its store locations, expanding its team of loyal associates, and entering new markets where it is not present. "We will also be investing capital back into our existing stores so that they continue to have the tools they need," added Frank.
New store openings are already frequently celebrated at the business, and 84 Lumber is expanding into Stockton, California; Boise, Idaho; Detroit, Michigan and more later this year. "This is all part of the road map to growth that is driving us forward," said Frank.
These investments are all very much part of Maggie's willingness to give back to the company, and Frank concluded with a story that really highlighted not just Maggie's own generosity, but also her personable approach to management and the level of engagement she has with her teams. "Her true love is visiting a store and seeing the associates, making sure people are successful," he said. "One of our stores in Dallas, Texas got on a bit of a run this year where they were doing a million dollars in revenue a day. Maggie visited the store when they were on day five of this success, and she saw just 86 associates delivering these results She really wanted to give back to each and every one of them, and she came up with the idea that we would pay each one of those staff members a certain dollar amount for the first five days they achieved $1m revenue and then she kept adding $500 a day. We went back 40 days later and gave everyone in the store a check for $18,000! I think this really shows what being privately-owned means, as you can really put your money where your mouth is. If you are the CEO of a public company, I am not sure if that is your MO."
Under Maggie's leadership, 84 Lumber has been built to survive the highs and lows of market changes, embracing innovation and technology, and creating valuable and rewarding careers for hundreds of staffers. On a continuing path of evolution and growth, and representing a true American success story, 84 Lumber can be proud of its heritage and legacy and look forward to a future where its contributions continue to build on the success of a nation.
84 Lumber
www.84lumber.com
Products / Services: The USA's largest privately held building materials supplier