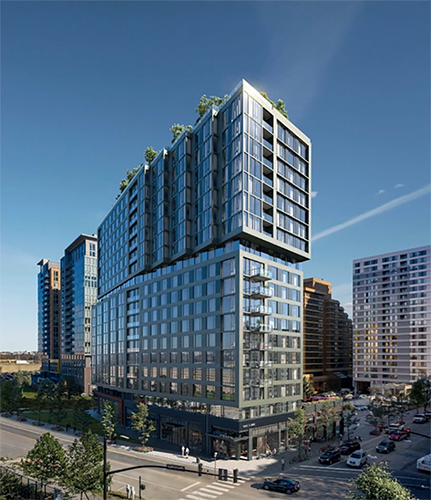 Commenting on the award, Sean Graham, Balfour Beatty Vice President of Operations in the Mid-Atlantic noted it was an honour to partner with LCOR Incorporated to deliver another high-quality construction project for the DC area. "Sage at National Landing will be another prestigious property that will spark continued economic growth in the area and bridge the gap between the Crystal and Pentagon cities," he said. "As an industry-leading builder in the multifamily and residential sector, our teams are leveraging our expertise to deliver a premier facility for local residents and the community to enjoy for years to come."
Featuring 306 new apartments spanning over 19 floors across a 40,000 square-foot site, the building will also feature 10,653-square-feet of ground floor retail space, including a two-story bar-and-restaurant.
To efficiently deliver the building, Balfour Beatty will utilise the latest technologies and methods including the prefabrication of exterior wall panels and mechanical, electrical and plumbing components.
This latest award marks Balfour Beatty's second project with LCOR Incorporated, following the completion of The Altaire, a LEED Gold certified, 20-story multi-family, mixed-use development and elite apartment residence in 2019.
Works are already underway, with completion expected in early 2023.